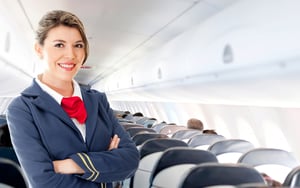 Shipper Saves $40k

on High Volume Reefer Lanes with Reliable Contracts
For the transportation team at a Fortune 500 Airline, getting reefer goods delivered to the tarmac is as difficult and mission critical as landing the plane. With Loadsmart's Reliable Contracts, the shipper has been able to guarantee capacity and a fair rate — all while saving $40k in a softening market.
100%
Tender Acceptance
Throughout the Reliable Contracts program, Loadsmart has accepted every load tendered.
20%
Cost Savings
Shipper saved 20% when compared to the contract rate locked in 3 months prior.
2x
Load Volume
Shipper expanded to new outbound locations, doubling volume moved.
Moving Past Traditional Freight Contracts: The Future is Dynamic
High volume lanes with have volatile rates and capacity can be a shipper's worst nightmare. Moving the freight is both urgent and difficult.
When relying on traditional methods like RFPs, mini-bids, or the spot market – shippers moving loads on volatile lanes will always be on the lookout for additional capacity. Contracts can break down with market fluctuations and relying on the spot market can expose a shipper to service risks.
The Challenge
For the airliner's transportation manager, finding consistent capacity to move freight in and out of airports was a constant challenge.
Strict rules and requirements for carriers handling airport freight creates a highly volatile situation. Those capacity constraints are made even more difficult given most of the shipper's freight is reefer, a transportation mode that notoriously tends to have high tender rejection rates and limited capacity.
Like many transportation teams, there are more loads than there are planners. With limited bandwidth, frequent re-pricing through mini bids and finding capacity on the spot market was not a long-term solution.
The Solution
To get better coverage and guarantee capacity on their volatile lanes, the Fortune 500 airliner collaborated with Loadsmart to set up a Reliable Contracts program. Starting with 15 of their most critical lanes, the Reliable Contract included:
Ceiling Rate: A maximum cost the shipper would pay on a lane.


Dynamic Rate: The cost to shippers is a floating rate, eliminating the operational need to re-price when rates fluctuate.


Margin Incentives: A sliding fee structure incentivizes Loadsmart to always find the best rate. Margins only go up, when shipper costs go down.


Rate Transparency: The shipper received a personalized report with costs and fees for every load.


Guaranteed Capacity: Throughout the program, Loadsmart accepted 100% of tenders.
Given the success of the program, the airliner has expanded to new outbound locations and doubled the volume moved through a Reliable Contract. With a floating rate, the airliner has taken advantage of a softening market in 2022 to drive over 20% in cost savings when compared to contract rates at the program start.
$100k in Freight Savings
See how America's top tool manufacture, Stanley Black & Decker saved $100k with Reliable Contracts.
More Stories
Hear from the transportation professionals who have found success moving more with less.
3 Strategies to Stay Ahead in an Ever Changing Market
This eBook will help you build three freight strategies to add to your transportation tool box and tips to build your next freight plan.
Start moving more with less today