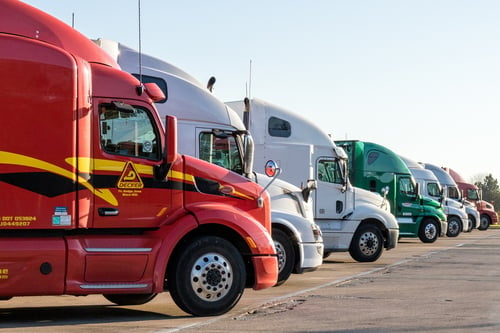 Auto Manufacturer Achieves 98% OTD with Loadsmart Drop
When contract carriers couldn't cover all the volume for the largest auto manufacturer, Loadsmart stepped in providing reliable spot coverage and a customized drop network made up of top performing carriers. The partnership kept critical supplier parts flowing in while maximizing available facility space to keep assembly lines running.
Loadsmart's integration with MercuryGate TMS and proactive approach to customer support was crucial to helping us. And, we are still better off for it today as the market continues to evolve."
Kevin Schulz
Sr. Manager of Freight Optimization, Veritiv
95%
On-Time Pickup
Loadsmart was able to provide the manufacture 95% on-time pick up for drop loads over the course of a year.
98%
On-Time Delivery
Shipper achieved 98% on-time delivery for drop loads in a years time.
92%
Top Carrier Coverage
Loadsmart used established carrier relationships, ensuring 92% of loads were covered by a Top 20 performing carrier.
When Contract Carrier's Can't Cover Drop Demand
The terms "spot loads" and "custom logistics solutions" aren't used together too often. But when the stakes are keeping production online at eight facilities, and the need for trucks is greater than contracted carriers can handle, it's time to get creative and find the flexible capacity you need. The spot market is usually the only option, but what about reliability?
For one of the world's largest auto manufacturers, keeping the necessary inbound flow of parts is a non-negotiable requirement of its supply chain. But when core carriers can't move the loads, it makes the spot market a necessity.
The Challenge
Surges in load volumes, unexpected spikes in rejection rates, and hot loads with little lead time are all reasons why going to the spot market may feel like the only option.
Although it's a necessity sometimes, the spot market is less-than-ideal when it's not well planned for. So, the manufacturer's challenge was finding a partner to navigate the spot market and provide capacity RELIABLY when needed. And to make it a little more complicated, their facilities relied heavily on drop trailers to provide extra storage.
The Solution
Not getting loads covered was never an option. So, Loadsmart created a custom solution that provided near-instant responses on spot loads. But, Loadsmart took it one step further. With its drop and hook solution and 24/7 responses to spot bids for added live loads, even the most unexpected shipments are moved no matter what.
To serve the customer, a dedicated Loadsmart account team built a strong network of carriers with large and flexible trailer pools – customized to match the delivery needs of the manufacturer and its suppliers.
With Loadsmart as their partner, they were able to source reliable drop and hook coverage and achieved:
95% On-Time Pick Up
98% On-Time Delivery
92% Freight Covered by Top 20 Carriers
Loadsmart can ensure carriers consistently service the customer, achieving a high pickup and delivery performance standard on difficult-to-manage spot loads. Teaming up with the right partner can make all the difference, and can allow you to focus on what you do best.
95%+ On-Time Service
See how a Fortune 500 packing company gained instant access to a reliable carrier network while receiving over 95%+ OTP and OTD.
More Stories
Hear from the transportation professionals who have found success moving more with less.
3 Strategies to Stay Ahead in an Ever Changing Market
This eBook will help you build three freight strategies to add to your transportation tool box and tips to build your next freight plan.
Start moving more with less today