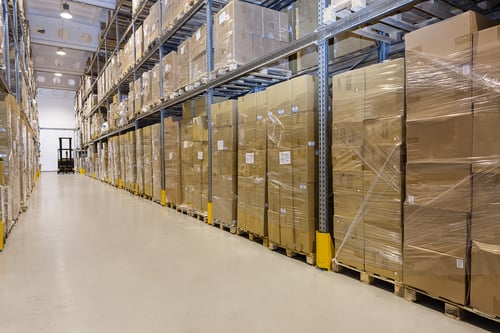 Guaranteed Capacity and Rates with e2open
Whether it's new lanes, a surge in volume or primary tender rejection, shippers managing high-volume lanes need a flexible carrier contract strategy. What shippers also need, is the combination both of a leading TMS and logistics partner to come out on top.
Protected Pricing
Many high-volume shippers have a flexible carrier contract strategy to get them through whatever the freight market may throw at them. However, typical solutions, like routing guide rates set months earlier or posting to the spot market, usually result in extra costs (and extra load planner time) to get freight on the road.
But even well positioned and innovative Fortune 500 companies can be impacted when market conditions spikes demand and tender rejections are at an all time high.
The Challenge
This is where a top pallet and container manufacturer found itself in 2021. When rejection rates were increasing faster than they could handle, they were feeling constrained by their existing routing guide strategy as rates quickly increased in order to get loads covered.
Planners also found themselves exhausted as they spent time working through their network only to manually post and locate carriers on the spot market. They knew they needed a change.
The Solution
Thinking tech-forward, the shipper created a workflow in their e2open TMS to provide the necessary capacity when demand was at its highest. Their routing guide was re-configured to include Loadsmart's Dynamic Rate which was instantly available when a primary carrier rejected a load. Loads were auto-tendered to Loadsmart when the dynamic rate was below contracted carriers, saving lead time and planner bandwidth.
The shipper also added an extra layer of protection with API RateGuard, which sets a rate celling based on industry benchmarks and historic rate data. Analysts reviewed all historical lane information and set Rate Guards based on mileage distance buckets.
The solution ensured that loads were only tendered to Loadsmart when Dynamic Rates were below the price ceiling. This allowed for easy customization and was applied at scale based on low to high mileage shipments, freeing up additional oversight needed from planners.
By adopting Loadsmart's Dynamic Routing Guide with API RateGuards within e2open TMS, the pallet manufacturer was able to:
Get guaranteed, reliable capacity, even when a primary carrier rejects their freight.
Increase booking efficiency and save planner's time by auto-tendering loads when the rate was below contract carriers.
Save on freight costs by using API RateGaurd to ensure ceiling caps were in place to avoid overspending on the spot market.
By integrating both a leading TMS, e2open, and a leading technology logistics partner, Loadsmart, the Fortune 500 shipper instantly created a faster routing guide that enabled them to book more efficiently.
With a tech-forward approach, comes guaranteed capacity from reliable carriers and no longer wasting time offering loads to carriers only to have shipments rejected. Planners can now always find reliable coverage at market-appropriate rates, keeping up with whatever new market conditions may throw at them next.
95% On-Time Service
Fortune 500 packing company gains instant access to a reliable carrier network and achieves 95%+ on-time service using MercuryGate TMS. View Case Study→
More Stories
Hear from the transportation professionals who have found success moving more with less. View Case Studies→
3 Strategies to Stay Ahead in an Ever Changing Market
This eBook will help you build three freight strategies to add to your transportation tool box and tips to build your next freight plan.
Start moving more with less today